Postgraduate research students recently presented their work to academia, industry and their peers at the UQ School of Human Movement and Nutrition Sciences (HMNS) Postgraduate Student Conference.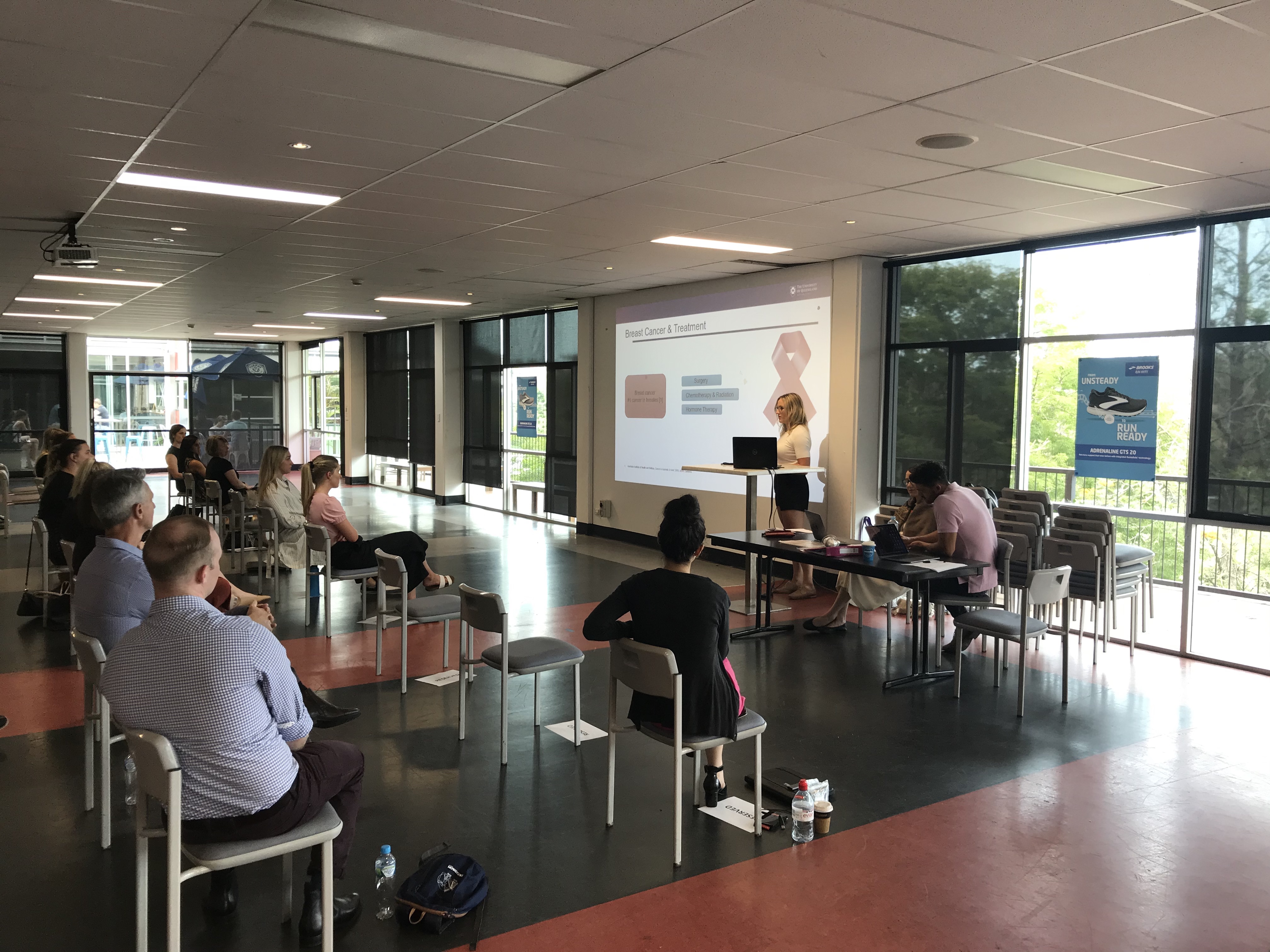 Now in its twentieth year, the conference featured presentations on a range of human movement and nutrition science research topics including cherry supplementation and athletic performance, defining what makes an expert sports coach, and just how good that warm shower might be for your vascular health.
The theme of this year's conference was 'Create, Connect and Collaborate'.
More that 40 post-graduate students and academic staff were able to attend in person, providing an opportunity to present and get valuable feedback on student research endeavours. Thank you to sponsors - Vald Performance (Gold Sponsor), and Brooks Running (Silver Sponsor).
PhD students and executives of the organising committee, Emilie Crosier and Naomi Fitzpatrick said the conference was a great opportunity for postgraduate research students to have a chance to interact and collaborate again.
"It was a fantastic experience to be able to provide an opportunity for everyone in the School to come together in a time when this hasn't been easily possible. I think everyone enjoyed being able to be in the same room as other presenters albeit socially distanced," Naomi said.
"The audience was so fantastic at providing valuable feedback to each other, the collaboration was so encouraging to see," Emilie said.
The attendees heard from guest speaker and fellow HMNS PhD student Lee Sheppard, a Djirribal woman who presented on the ways of interacting with Aboriginal peoples to facilitate health equity; an important presentation that educated researchers on appropriate ways to engage with Aboriginal peoples, and foster meaningful relationships with communities.
Ms Sheppard is currently undertaking her PhD examining 'Sport for development programmes: Privatised aid and Aboriginal sport in Australia' under the supervision of Dr Steven Rynne and Dr Jon Willis.
"We were very grateful for Lee's willingness to share and to highlight such an important consideration when doing research", Emilie said.
To finish off the day there was a debate turned panel discussion about the importance of both biophysical and sociocultural research.
"It was really brought home how important it is for us all to collaborate together to progress research forward," Naomi said.
Congratulations to the following award recipients:
Winner of Brookes Running Keynote Presentations: Andrew Kennedy - Measuring Sports Coaching Expertise.
Winner of Brookes Running Speed Presentations: Morgan Farley - Changes in body composition with four weeks of HIIT in breast and prostate cancer survivors.
People's Choice Winner of Speed Presentations: Stephanie Duncombe - The effect of co-constructing HIIT workouts with students and teachers on feasibility, student enjoyment and motivation.
Section Winners:
Nutrition and Dietetics: Abigail Marsh - Outcomes of dietary management approaches in active ulcerative colitis: a systematic review.
Biomechanics and Sports Science: Laura Hutchinson - Mechanical structure and function of the iliotibial band and implications for running injury.
Clinical Exercise Physiology: Morgan Farley - Changes in body composition with four weeks of HIIT in breast and prostate cancer survivors.
Physical Activity, Teaching, Sports Culture and History: Ruth Brady - Device-measured bouts of physical activity and cardiovascular health in adults: a systematic review.