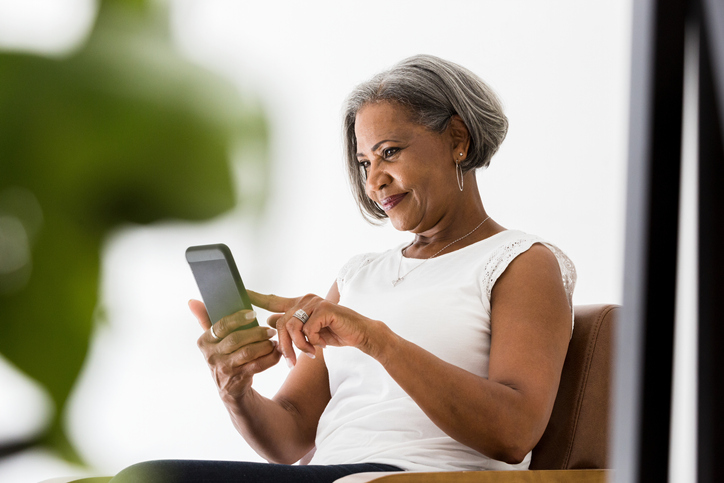 Telehealth is an easy and convenient way to have a consultation with a healthcare professional without having to travel anywhere.
With the right technology, you can access healthcare from your own home or any suitable location.
It is particularly useful during a crisis such as COVID-19, as you can access health services without risking your safety, or the safety of your family and your healthcare provider.
Telehealth can use standard video conferencing platforms such as Skype or Zoom, or specialised video conference platforms such as eHAB®.
eHAB® was developed by UQ through NeoRehab specifically for allied health professionals to deliver secure rehabilitation services.
Regardless of the platform, all you need is an iPad or computer/laptop with microphone and webcam, a good internet connection, and a quiet place to participate in your sessions.
Some telehealth can be delivered by telephone alone, with no need for online technologies.
A range of UQ Health services, such as those offered by the UQ Health and Rehabilitation Clinics, have been delivered online for some time.
Other services, such as those offered by the UQ Psychology Clinic, have migrated online in response to the pandemic lockdown.
Below are details of the services currently being offered via telehealth within the clinics of the UQ School of Human Movement and Nutrition Sciences, the UQ School of Psychology, and the UQ School of Health and Rehabilitation Sciences.
---
UQ Nutrition and Dietetics Practice
The UQ Nutrition and Dietetics Practice offers expert nutrition and dietary advice for people who need to treat and manage a range of health conditions, as well as for those seeking to improve their general health and well-being.
Services are delivered by postgraduate UQ Master of Dietetics Studies students – under the supervision of a fully qualified Accredited Practising Dietitian – who take into account each client's medical and personal circumstances to recommend the most appropriate and realistic treatment plan.
In response to COVID-19, consultations are currently being conducted via telephone conference or Skype/Zoom.
UQ Nutrition & Dietetics Practice
---
UQ Sport and Exercise Psychology Service
Sport and Exercise Psychology can benefit anyone who wishes to improve performance or stay healthy in their chosen activities. Whatever the objective – winning, personal success, excellence, challenge, social interaction, exercise, relaxation, or simply enjoyment – a Sport and Exercise Psychologist can help you achieve your goals.
The UQ Sport and Exercise Psychology Service is jointly delivered by the UQ School of Psychology and the UQ School of Human Movement and Nutrition Sciences. Psychologists have a minimum of four years of training in psychology. They are all either conditionally or fully registered with the Psychology Board of Australia (PBA) in partnership with the Australian Practitioner Health Regulation Agency (APHRA). All are currently completing further studies in the Master of Applied Psychology (Sport and Exercise) program, and are supervised by fully registered psychologists.
This service has moved to telehealth delivery in response to the COVID-19 pandemic.
UQ Sport & Exercise Psychology Service
---
UQ Psychology Clinic
The UQ Psychology Clinic has been providing high-quality mental health services to the community for more than 25 years.
The Clinic offers psychological assessment and therapy services to people of all ages, including children, adolescents, adults and older adults.
Treatment is provided by provisional psychologists who are currently undertaking advanced postgraduate study in Psychology (including Masters, Professional Doctorate, and Doctor of Philosophy degrees). All provisional psychologists are provisionally registered with the Psychology Board of Australia, and receive regular professional supervision from fully qualified, senior psychologists.
The Clinic is now offering telehealth-based services to clients either via Zoom or telephone. Initially these services are being offered at no cost, with a review of fees to occur on 30 September 2020.
---
UQ Health and Rehabilitation Clinics
The UQ Health and Rehabilitation Clinics have offered telerehabilitation services for some time now. In response to COVID-19 they have significantly expanded the services available through the UQ Telerehabilitation Clinic (TRC). Some of the services in physiotherapy are currently being provided for free.
The TRC offers client-focused health services to the general public from children through to seniors. The majority of services are delivered by student clinicians under the supervision of experienced and qualified staff. Some services in physiotherapy are provided by qualified allied health professionals who are undertaking specialty postgraduate degrees.
Services offered via telerehabililtation:
The TRC uses both Zoom and a specialised video conference platform called eHAB® to deliver services. Both Zoom and eHab® are free to access and use for clients receiving services through the TRC.