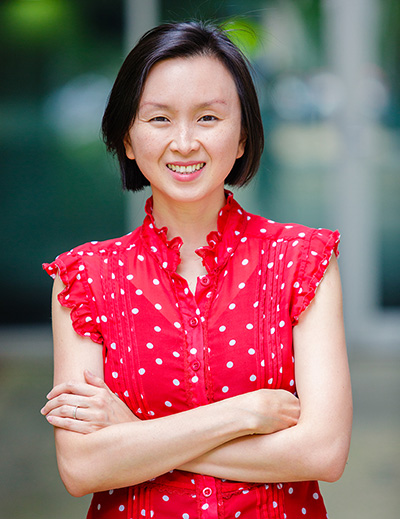 Dr Li-Ann Leow from UQ's School of Human Movement and Nutrition Sciences has received funding from the Brain Foundation for her research into age-related decline.
Dr Leow was granted a 2019 Brain Foundation Research Gift Award for the project 'The role of dopamine in age-related deficits in sensorimotor adaptation'.
"To maintain our independence as we grow older, we require a form of motor learning called sensorimotor adaptation, which is the capacity to adapt movement to change," Dr Leow explained.
"Examples of this are adapting to changes in the body, such as arthritis, or in the environment, such as walking on a slippery floor or manoeuvring obstacles, which can increase the risk of falls.
"In Australia, a third of community-dwelling older adults fall at least once a year. Many falls result in hospitalisation; more than 100,000 people aged over 65 were hospitalised in 2014–15.
"We're investigating why sensorimotor adaptation is impaired in older adulthood."
Dr Leow and her research team believe that one reason for the impairment of sensorimotor adaptation in older adulthood is the profound degeneration of the dopaminergic system.
"In older adulthood, we lose up to 50 per cent of our dopamine neurons in the midbrain region," she said.
"Every decade after age 20, we lose 5-10 per cent of our dopamine receptors and transporters.
"This project directly tests the idea that inadequate dopamine neurotransmission with ageing impairs multiple components of sensorimotor adaptation.
"Our approach is two-pronged: first, we pharmacologically manipulate dopamine in older adults; and second, we leverage sensitive methods of experimentally dissociating the multiple components of adaptation.
"This approach will help to explain the role of dopamine in sensorimotor adaptation, which is a crucial step towards forming a comprehensive framework of the neural mechanisms that underpin age-related declines in sensorimotor adaptation."
Dr Li-Ann Leow is a post-doctoral research fellow at the UQ Centre for Sensorimotor Performance.
Her co-investigators on this project are UQ's Professor Timothy Carroll, Dr Eva-Maria Reuter, Dr Rob Adam and Professor Stephan Riek, and Western University's Professor Penny Macdonald.