UQ's School of Human Movement and Nutrition Sciences researcher,
Associate Professor Gary Osmond
, has been awarded the 2019 John Barrett Award for Australian Studies. Dr Osmond, together with co-author Matthew Klugman (Victoria University) were awarded for their article which investigates possible reasons for the forgetting of a powerful image of Cathy Freeman running beneath Northcote's Koori Mural of Aboriginal Elders in chains.
Dr Rebecca Olive
, fellow researcher at the
School of Human Movement and Nutrition Sciences
was highly commended for her article which explores women, localism and the politics of surfing.
The John Barrett Award for Australian Studies is awarded annually for the best written article published by the Journal of Australian Studies (JAS). The award is administered by the International Australian Studies Association.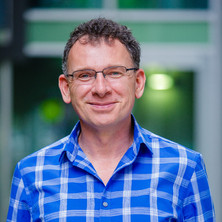 John Barrett Award (open category)
Gary Osmond and Matthew Klugman, 'A Forgotten Picture: Race, Photographs and Cathy Freeman at the Northcote Koori Mural' (43.2)

The article brings Indigenous and settler relations, feminism and racial politics, a brutal colonial past and contemporary Aboriginal radicalism into relation through a politically loaded street mural, a carefully framed photograph by Wayne Ludbey, the extraordinary career and celebrity of Cathy Freeman, fervent Australian nationalism, and the politics of the Australian media. Providing us with a refreshing take on one of Australia's most lauded sportswomen, the article masterfully uses a single but neglected photograph to undo 'a history of forgetting' that so often clouds our public memory.
John Barrett Award: Highly Commended (open category)
Rebecca Olive, 'The Trouble with Newcomers: Women, Localism and the Politics of Surfing' (43.1)

This is an engaging piece of scholarship that skilfully weaves together the many strands of a large body of research on surfing, gender, sexuality, race, colonialism, localism and the 'ethics of care' to consider the tensions of belonging – rights and rites of local spaces – with a particular focus on 'women's lived experience of localism'. The data drawn from popular media, scholarly material, personal experience and oral interview is presented in engaging and persuasive form all the while maintaining a coherent flow-through of argument.