Centre for Olympic and Paralympic Studies
Professor John Cairney – Centre Director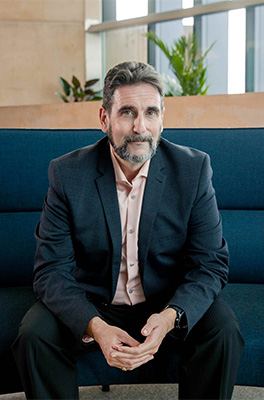 Professor John Cairney is Head of School at the UQ School of Human Movement and Nutrition Sciences and the newly appointed director of the Centre. He brings to the role more than 20 years of experience in research leadership, having led internationally renowned research centres in both Canada and Australia. Professor Cairney assumes the leadership of the Centre from Honorary Associate Professor Ian Jobling, its founding director from (2000-2023) and current Patron.
Professor Cairney leads a multidisplinary team of researchers and educators who offer a range of expertise on the Olympic and Paralympic Games, including sports science and sports medicine, history and sociology, business and law, pedagogy, psychology and coaching, engineering, biomechanics, epidemiology and public health, and sports technology. 
Professor Cairney's own expertise is as diverse as the centre itself. After initially completing a PhD in sociology, he is now a world-leader in paediatric exercise medicine and is engaged in with multiple dimensions of sport, exercise and health research, including public health, athlete development pathways, athlete mental health and well-being, youth sport participation, sport diplomacy, and sport history.  
Of the centre, Professor Cairney says: 
"The centre is the cornerstone of UQ's overall Games strategy, providing a platform to bring together researchers from across the University to facilitate and accelerate research in sport and sport-related studies. The Centre will also play a critical external facing role, hosting public lectures, events, and visiting scholars from now through to 2032. It will also drive UQ's Olympic and Paralympic Hall of Fame project, celebrating current students and alumni who have and will compete in the Games. It will play a major role in supporting 2032 legacy in Brisbane and beyond."
On behalf of Professor Cairney, welcome to the UQ Centre for Olympic and Paralympic Studies. Please explore our research, peruse our resources, and contact us to work with our experts.
Oversight committee
Committee member 1
Committee member 2
Committee member 3
Committee member 4
Committee member 5
 
Theme Leaders
Enhancing Athletes Theme Leader: TBC
Sport and Society Theme Leader: TBC
Business of Sport Theme Leader: TBC
Healthy Communities Theme Leader: TBC