The HMNS Online and Face-to-face Personal Training Service – (Lockdown proof)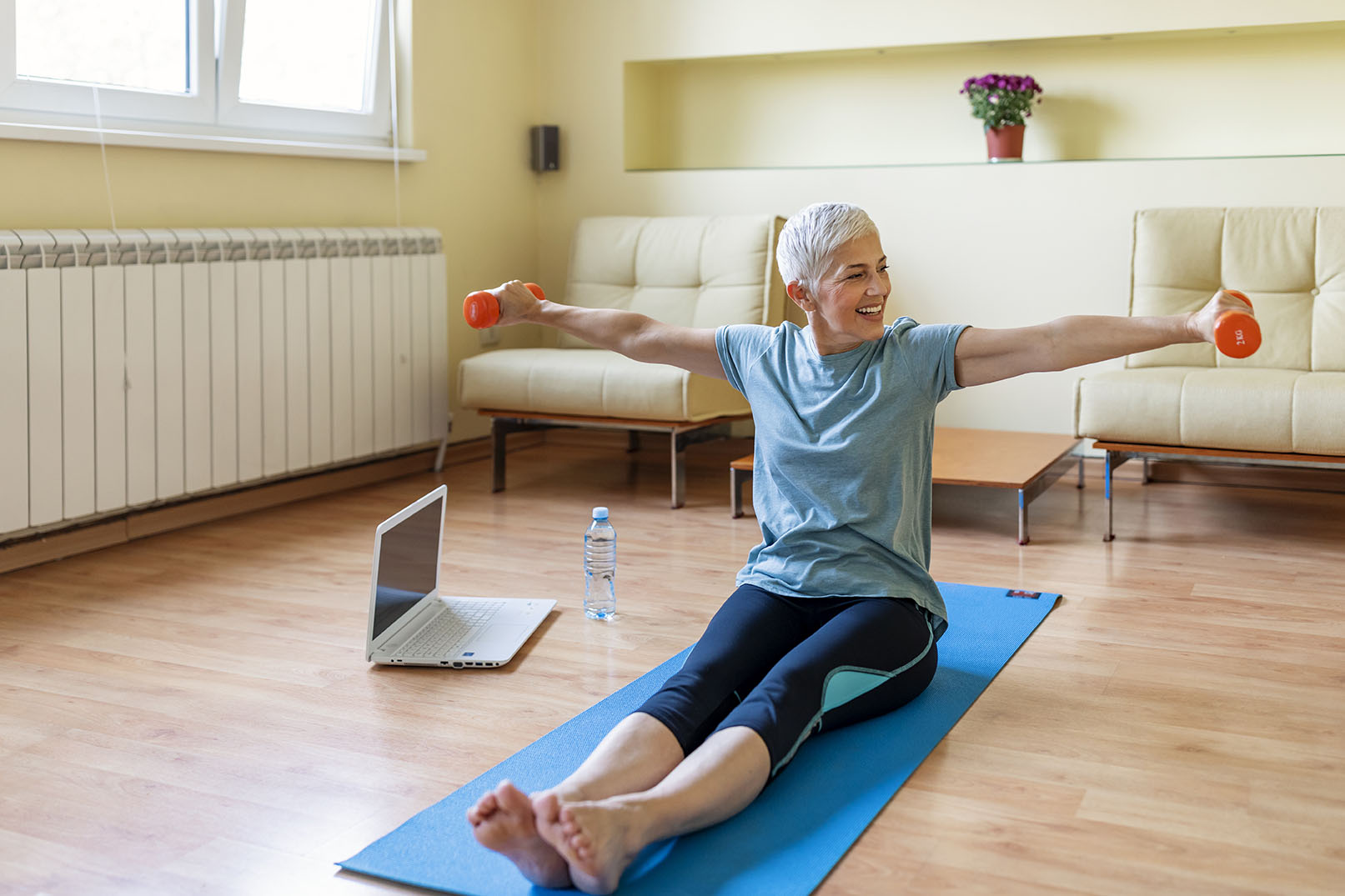 Does the prospect of "lockdown at any time" make it difficult to establish a routine?
Do you find it difficult to plan ahead and set goals in these uncertain times?
We're here to help!
The Human Movement and Nutrition Sciences (HMNS) Personal Training Service has run for the past 8 years and is highly popular among members of the UQ community. Last year, the prospect of a lengthy lockdown was never far away and out service was entirely online. This year, with more time out of lockdown than in, we have planned a service that takes advantage of face-to-face contact but will transition seamlessly to online in case of another lockdown at short notice.
What is the purpose of the program?
To assist individuals who are currently insufficiently active for good health in a way that is safe, effective and sustainable.
What type of training do you offer?
We offer 1:1 personal training and group training services. Each run twice per week for 8 weeks, with the personal training option offering an additional pre- and post- training assessment. You can choose either option or do both!
Where will it take place?
Personal training: in each training week you will have 2 sessions, the first of which will be face-to-face at the HMNS gym, and the 2nd of which  will be run online in the comfort of your own home (over Zoom – no license needed)!
Group training: all sessions will be hybrid, meaning you have the option to come in to HMNS and complete the class face-to-face or if you prefer, complete the class online via Zoom.
How many sessions do I get?
18 individual personal training sessions and/or 16 group training sessions.
Who will be running the sessions?
The service is delivered by our friendly, enthusiastic 2nd year undergraduate students under the supervision of an experienced practicing Accredited Exercise Physiologist or Exercise Scientist.
When will the sessions run?
Personal training: Your first face-to-face session per week will be delivered morning or afternoon on a weekday of your choosing. Your second online session for the week will be delivered any time that suits you and your trainer!
Group sessions: We offer morning and afternoon sessions every weekday.
Why should I sign up to the program?
The question is, why shouldn't you? This year we are offering our most flexible, cost effective program to date. It is tailored to suit your busy schedule and delivered in an innovative way such that if another lockdown occurs (touch wood) you will continue to receive your training sessions without a hitch.
There is no reason you can't get fitter, stronger and healthier when you sign up to our Lockdown Proof HMNS Personal training service.
Here is our plan for you…
Service Options Summary
 

Individual personal training ONLY

Group personal training ONLY

Individual AND group personal training

Price

$180

$100

$230

What you receive

2 x pre- and post- training fitness assessments

16 x 1:1 supervised personal training sessions. 1/wk at UQ gym, 1/wk online over Zoom.

Post- training report discussion progress and current health and fitness status. 

Evidence based health information, to empower yourself to lead your own personal health journey.

2 x bootcamp/circuit style group training sessions per week.

You get BOTH of the wonderful options described!

Take your health and fitness to the next level by combining our two training services.

You get a total of 32 exercise sessions plus and initial and final fitness assessment!

2 x private training sessions per week
AND
2 x group training sessions per week

This is the best option for those keen to break that slump and head into 2022 fitter than ever!

Sign up for both and you get group training at 50% off!

 

Location

Session 1 face-to-face (UQ St Lucia gym) and one session online (over Zoom)

Your choice of face-to-face or online delivery (over Zoom).

Time

Session 1: Your choice of AM or PM Mon-Fri

Session 2: Any time that suits you and your trainer over Zoom.

Your choice of AM or PM sessions Mon-Fri

Start Date

Week of August 2, 2021

16th August 2021

End Date

Week of October 22, 2021

15rd October 2021

Plan

Week 1:
initial Assessment

Week 2 - 9:
2 x 1:1 personal training sessions per week.
Session 1: Delivered face to faceat the UQ gym, directly supervised by an accredited exercise physiologist or exercise scientist.
Session 2: Delivered over Zoom at a convenient time for you and your trainer.

Week 10:
Final Assessment

Week 1-8:
2 x bootcamp/circuit style person training sessions delivered per week delivered with supervision by an accredited exercise physiologist or exercise scientist.

Value

18 x 1:1 sessions at $180 is $10 per session!
Commercial gyms can charge up to $700 for the same service.

16 x group training sessions at $100 is $6.50 per session!

18 x 1:1 sessions at $180 is $10 per session!

16 x group training sessions at $3.25 per session!!!
Does this sound like something you could be interested in? Read on to find out if you are eligible!
Eligibility Criteria:
One of the key educational aims of the HMNS Personal Training Service is to provide students with an opportunity to work with clients who are not currently physically active – our students need the opportunity to develop the skills required to help inactive people become active. Therefore, you will be eligible for this service if:
You are currently insufficiently active for good health (Australian Guidelines: 30 minutes moderate intensity physical activity at least 5 times per week AND muscle strengthening exercise at least 2 times per week).
You are NOT wanting sport-specific training (e.g. competitive weight lifting or a triathlon)
You do NOT want a treatment or rehabilitation program for a specific condition or injury (e.g. chronic low back pain, ACL tear, Type 2 Diabetes, Stroke). 
How do I register?
ITS SIMPLE! Just follow this 5-step process:
Step 1: Register your interest by clicking on the "Register Here" button and complete the short survey.
Step 2. Select whether you would like individual training, group training or both.
Step 3: Wait eagerly (1 week maximum) as we screen your registration to assess your eligibility.
Step 4: Receive your email determining the outcome of your eligibility and confirmation of your place in the program.
Step 5: Get excited!
Please Note: Registering your interest does not guarantee you a place in the program. Registration will be assessed in the order of which they are received (i.e. first in first served). There are limited places so please register early to avoid disappointment. 
On Behalf of the HMNS Personal Training Service Team 2021.