The University of Queensland was ranked as Australia's top university for Agriculture and Forestry, Environmental Sciences and Sports-Related subjects for the second consecutive year in the 2020 QS World University Rankings by Subject released today.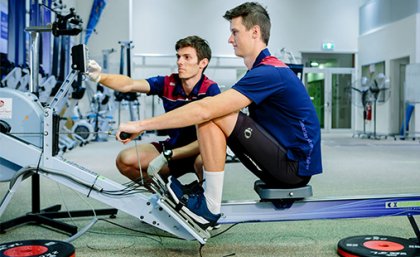 The results follow UQ's jump across the major world university rankings over the past year.
UQ pushed up into 47th position globally in the QS World University Rankings, 54th in the Academic Ranking of World Universities, 66th by the Times Higher Education and 42nd in US News rankings.
Vice-Chancellor and President Professor Peter Høj said the results cemented the University as a world-leading institute and were an important validation of research efforts.
"UQ's strong performance across all world rankings reflects a commitment to research, teaching and learning that is core to the University's values," Professor Høj said.
"UQ is one of only three universities in the world to be ranked in at least 43 of QS's 48 academic subjects, demonstrating the strength of our globally-competitive programs.
"We maintained the top position in Australia in Sports-Related Subjects, Agriculture and Forestry and Environmental Sciences."
UQ also showed its strength in bioengineering, with a global rank of 38 in Chemical Engineering and 31 in Pharmacy and Pharmacology.
"Our bioengineering program is one of the best in the world and is designed to help students and researchers tackle society's major challenges," Professor Høj said.
"We are incredibly proud to have researchers from this discipline at the helm of major vaccine developments, including the COVID-19 vaccine and Hendra virus clinical trial."
UQ improved significantly in Engineering - Civil and Structural (jumping 10 ranks), Veterinary Science, Accounting and Finance, Hospitality and Leisure Management and Law.
UQ subjects ranked in the world's top 50 by QS are:
Sports-related Subjects 3
Engineering - Mineral & Mining 5
Environmental Sciences 14
Education 23=
Hospitality & Leisure Management 23
Psychology 23
Agriculture & Forestry 25
Engineering - Civil & Structural 26
Veterinary Science 28=
Pharmacy & Pharmacology 31
Nursing 36=
Sociology 36
Engineering - Chemical 38=
Law 39
Accounting & Finance 41
Anthropology 43
Geography 43
Biological Sciences 44
Earth & Marine Sciences 44=
English Language & Literature 48
Medicine 48=
The full QS Subject Rankings 2020 results are here.
Media: UQ Communications, communications@uq.edu.au, +61 7 3365 3439.