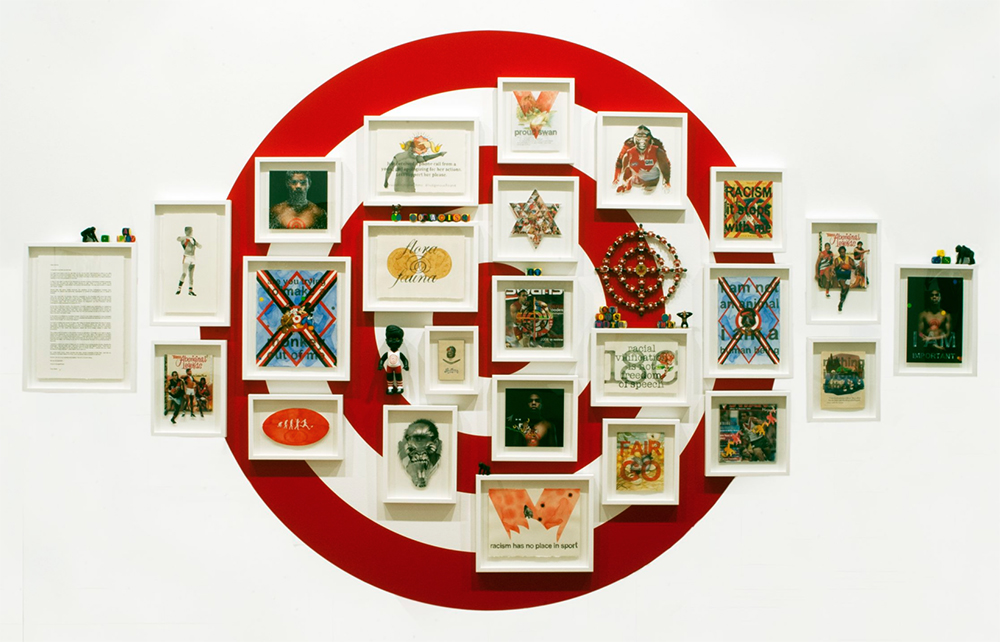 The award-winning art challenging a deeper examination of racism in sport, by Associate Professor Gary Osmond of the UQ School of Human Movement and Nutrition Sciences and the Poche Centre for Indigenous Health.
Tony Albert's artwork Once upon a time… (2013-14) is my favourite instalment in Play On: The art of sport, exhibited at the UQ Art Museum to celebrate 10 years of the Basil Sellers Art Prize.
Like the title's verbal reference to the opening line of a fairytale, this 2014 prize-winner visually introduces a fantasy sportscape. The kaleidoscopic structure of colourful segments – 24 framed works plus other objects – contains storybook covers, plastic apes, a doll, a Disney cartoon, fluffy baby swans and other childhood imagery. The effect amuses me.
But contained in that title is a dotted ellipsis, an ominous portent matched by other elements of the imagery. A red-ringed target backgrounds the framed pictures, which are hung asymmetrically, just off-centre to the bullseye. Target roundels are transposed onto the bare chests of young Indigenous men in three framed portraits. A human face morphs into a fang-jawed ape. The effect disconcerts me.
Albert introduces his motivation and subject matter in one of the framed pieces, a letter addressed to fellow Aboriginal artist Gordon Bennett. In this, Albert describes being 'gutted' by racist incidents in Australian rules football and contextualises his work as a commentary on racial issues in Australian sport.
I am familiar with these issues through my work on racism in the Australian Football League (AFL) with fellow sport historian, Matthew Klugman. Matthew and I wrote a book about the iconic photographs of Nicky Winmar.
The St Kilda player and Noongar man from Pingelly in WA, who famously raised his jersey and pointed to his chest while proclaiming "I'm proud to be black" to snarling spectators who'd hurled racist insults throughout a game against Collingwood in 1993. The photos triggered a series of events that culminated in the introduction of Rule 30, the AFL's code on racial discrimination, in 1995. They also inspired a series of artworks, from cartoons to graffiti to murals that featured Winmar in this striking pose.