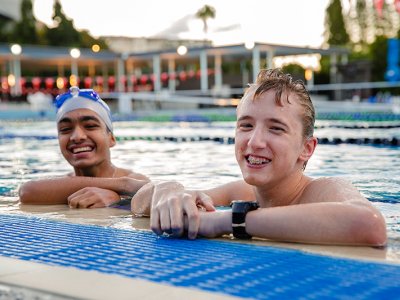 Associate Professor Sean Tweedy is a passionate advocate of encouraging people with disabilities to become more physically active as a means of improving health and fitness.
In this regard, he is not alone. The health benefit of physical activity for the general population – with or without disabilities – is well established. And there are lots of different ways that people with disabilities can become physically active: join a gym, go for a walk each day, or even something simple like parking the car further from the shops.
However, Dr Tweedy, who has been an international classifier in Paralympic sport for the past 25 years, suspects there might be something particularly beneficial about competitive sport. 
"People with disabilities who train for sport and compete regularly report that sport not only makes them stronger and fitter, but they are able to do more for themselves, make friends and feel good about themselves," Dr Tweedy said.
"Not only are the outcomes wide-ranging but the magnitude of the benefits people describe are huge, many even say transformative.
"There is some evidence to indicate that these people are probably right, because sport has been shown to be highly beneficial. But while these personal stories are compelling, the accuracy of the claims has not been scientifically evaluated.
"We plan to find out exactly how beneficial competitive sport can be for people with moderate-to-severe disabilities."
This is why Dr Tweedy and his research team from the UQ School of Human Movements and Nutrition Sciencehave developed the Para START Program.
It's a sports training program for people eligible to participate in the Paralympic Games. Hence, the Para part of the title.
START stands for Sports Training And Research Team.
Watch the ParaSTART video
The first phase of the program is a four-year evaluation of performance-focused swimming training for people with cerebral palsy.
"We're looking at the therapeutic benefit of sport participation, so the term 'performance-focused' is the key," Dr Tweedy explains.
"We already know that aquatic therapy works. Treating people in water reduces the effects of gravity, making movement easier and allowing people to do exercises that will improve strength and range of motion.
"What makes the Para START Program different lies in the aim. We are not looking to achieve conventional therapeutic goals, we are aiming to produce the best competitive swimmers possible.
"To begin with, our participants focus on swimming a minimum of 50 metres, because that is the shortest event on the Paralympic program. Then we concentrate on getting them to cover that distance as fast as possible."
Dr Tweedy works closely with Dr Emma Beckman, Dr Mark Connick, Dr Leanne Johnston and a team of PhD candidates. Their first Para START squad consists of four young people in their late-teens to early 20s: Jamie, Tash, Kunal and Nate.
None of the participants were independently water safe when they began, but they loved being in the water. They're now taking on the challenge of trying to make the Australian swimming team for the Tokyo 2020 Paralympic Games.
"When Nate began with us he couldn't float on his back, but by the end of his first 16 week training period he was able to swim 19 metres unassisted, which is just fantastic!" enthuses Dr Tweedy.
"Nate is now fired up to reach the 50 metre mark, and I'll think he'll do it in his next training cycle.
"Tash is a natural water baby, and is improving rapidly; as is Kunal.
"Jamie has progressed much faster than we thought. She's looking likely to compete at Nationals this year, and she may just swim a qualifying time for Tokyo."
With high support needs athletes come high support costs.
"We're taking four previously inactive young people with moderate-to-severe cerebral palsy through four years of training so we need to remove as many of the environmental barriers as possible, from transport to support staff to individually tailored pool access procedures," Dr Tweedy explains.
"Coaching athletes to go as fast as they can requires a comprehensive training program delivered by a multi-professional team of qualified swimming coaches, exercise physiologists, physiotherapists, sport psychologists, and dietitians.
"Along with the training there is the cost of conducting our research. We are collecting  and analysing data to draw conclusions about the therapeutic benefit of competitive swimming training and to assist in the development of evidence-based methods of classifications in Paralympic sport."
This project is being undertaken with the support of the Queensland Academy of Sport, Swimming Australia and the Australian Paralympic Committee.
It needs your support too, to help cover project costs and assist four young Queenslanders with cerebral palsy get the best training possible. You may even see one make the Australian team for the Tokyo 2020 Paralympic Games!