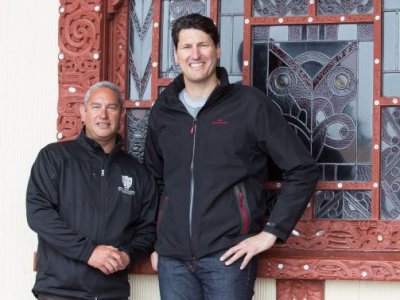 New Zealand's sacred ritual, the haka will be the subject of a new documentary in the John Eales Reveals series with a University of Queensland expert weighing in on the science behind the performance.
UQ alumni and rugby union legend John Eales, then captain of the Wallabies led the team to turn their backs on the All Blacks as they performed the Haka in Wellington in 1996, triggering outrage.
UQ School of Human Movement and Nutrition Sciences' Dr Vince Kellyexplored the science behind the Haka to answer why Eales made this decision, which turned out to be his biggest career regret.  
"We looked at how foot-stamping, tongue protrusions and rhythmic body slapping accompanied by a loud chant affected the heart rate of those who performed the high energy performance compared to those who watched it," Dr Kelly said. 
Heart rate monitors were used to compare the two groups' responses in live time.
"I was really surprised how high the heart rates reached in players performing the haka with some reaching over 90% of their maximum heart rate.
"This was a much higher heart rate response then seen in the players who watched the haka.
"Players who perform the haka would have an advantage over their opposition as their heart is elevated in preparation for the match.
"Whilst we did not measure hormone levels it is possible those who perform the haka may elevate testosterone levels and elevated testosterone levels have been linked to match performance in rugby."
The one-hour documentary follows Eales as he sets out to understand the deep cultural, historical, social, communal and psychological aspects that makes the haka not just the greatest pre-match ritual in world sport, but a pivotal part of New Zealand's culture and identity.
John Eales Reveals: The Haka will premiere on the Discovery Network on Sunday, August 20 at 7.30pm.