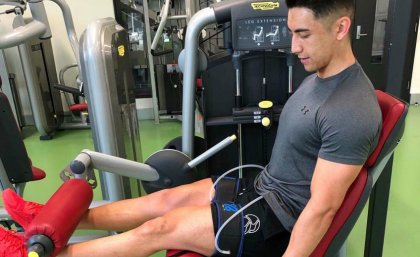 The belief that lifting heavy weights is necessary to build muscles is being challenged by University of Queensland researchers.
UQ School of Human Movement and Nutrition Sciences researcher Charlie Davids said resistance training at low loads with blood flow restriction (BFR) has been shown to increase muscle size and strength.
"BFR, also known as Kaatsu training, involves performing exercise with a restrictive cuff placed around the exercising limbs," Mr Davids said.
"This reduces the amount of blood and oxygen delivered to the exercising muscles, leading to an accumulation of metabolic by-products, such as lactate, causing some parts of the muscle to fatigue quickly while others compensate."
Mr Davids said BFR has potential implications for the injured and elderly.
"These individuals often possess musculoskeletal conditions that limit their ability to achieve significant gains in muscle size and strength with normal resistance exercise.
"The low loads typically used with BFR mean that the muscles and joints are subjected to lower levels of stress, which may accelerate the recovery from musculoskeletal injury, or allow elderly people to combat the natural decline in muscle mass that occurs with ageing."
The application of BFR for healthy individuals and athletes is also promising.
"The reduced training stress may mean a greater number of training sessions can be performed in shorter periods," Mr Davids said.
"Training sessions could potentially be increased to twice daily, which has been demonstrated to produce marked increases in muscle size in as short as two weeks."
Mr Davids' research will investigate the responses of healthy individuals to BFR training in an effort to translate the practice to clinical domains.
"There is a lack of consensus among scientists, practitioners and coaches as to how this novel exercise method can be adapted to cater for the goals and health considerations of various populations," Mr Davids said.
"We want to address this gap by assisting with the formulation of evidence-based guidelines for BFR resistance exercise."
Mr Davids is looking for healthy individuals aged 18 to 35 to participate in the study.
The study is being conducted at UQ's St Lucia campus in Brisbane, with participants undertaking six weeks of free strength training supervised by a qualified exercise scientist.
Each of the 24 sessions will take 30 minutes, and will consist of two lower body exercises.
Participants will be provided with nutritional support (whey protein) following each training session.
To participate in the study or find out more contact Charlie Davids on c.davids@uq.edu.au or +61 413 541 974.
Media: Charlie Davids, c.davids@uq.edu.au, +61 413 541 974; Dani Nash, UQ Communications, dani.nash@uq.edu.au, +61 7 3346 3035.