Current role
Accredited Exercise Physiologist, Making Strides (spinal cord injury recovery centre)
What does your job involve?
I provided activity-based therapy interventions to clients of all neurological conditions including Spinal Cord Injuries (SCI), Cerebral Palsy (CP), Multiple Sclerosis (MS), and Aquired Brain Injuries (ABI). My job is to help them become as strong and independent as they possibly can through the use of exercise therapy.
What do you love most about your job?
I enjoy everything about my role. I enjoy the large hands on, face-to-face team, work environment with not only all our clients at Making Strides, but also the other AEP's. I love watching everyone push themselves to the limit and achieve what they once thought was impossible. Be that moving from a power chair to a manual chair, taking their first unassisted step, or achieving an independent transfer.
In 10 years' time I hope to still be working in spinal cord injury rehabilitation. I hope to set up and expand Making Strides to another facility in Australia and be the head AEP running the facility. To get there I need to continue my professional development and keep expanding my knowledge base.
What was your motivation to become an Accredited Exercise Physiologist?
I always had an interest in injury and rehabilitation, and knew that I did not want to be stuck working all day sitting at a desk.  When I first started my clinical exercise physiology degree the plan was to move into physiotherapy after my first year, but as I moved further into the clinical exercise physiologist program, I found this was the profession for me.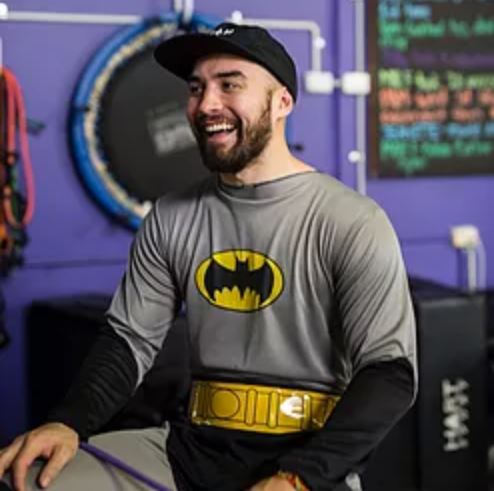 What were the highlights of studying clinical exercise physiology at UQ?
All the knowledge I gained. The in-depth knowledge of anatomy, biomechanics and exercise prescription was second to none. All the courses were tough and pushed me to study hard, it has paid off. Another highlight was the large face-to-face component of many courses. It is very different sitting in a lecture and learning to then standing face-to-face with a client in a session. It gave me a great head start on all my pracs and even though I always felt nervous, I was always extremely well- prepared. One of my placements was actually with Making Strides and that's how I landed my job here!
Learn more about the Clinical Exercise Physiology (Honours) program