8 x one-on-one Personal Training Sessions – Only $100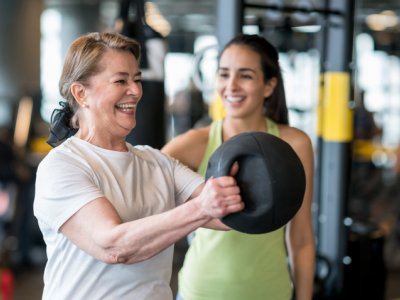 The Human Movement and Nutrition Sciences (HMNS) Personal Training Service has run for the past 6 years and is highly popular among members of the UQ community.
STOP PRESS - this semester ONLY we have a FANTASTIC deal, with the PRICE REDUCED BY MORE than 50% and a record number of session times to choose from!  No free steak-knives, but so cheap, even a student can afford it - only $100! For more info, read on…
The aim of the service is to assist individuals who are not currently active to become physically active in a way that will enhance their health, fitness and functioning.
The service is delivered by undergraduate students in their second year of the Bachelor of Exercise and Sport Sciences or Clinical Exercise Physiology programs. Students are closely supervised by an Accredited Exercise Physiologist or Exercise Scientist, creating an environment where students  are able to apply the technical skills they have acquired in the first three semesters of their training, while still delivering a high quality service.
If this sounds like a service you would be interested in, please read on! 
Who is eligible for the HMNS Personal Training Service?
One of the key educational aims of the HMNS Personal Training Service is to provide students with an opportunity to work with clients who are not currently physically active – our students need the opportunity to develop the skills required to help inactive people become active. Therefore, you will be eligible for this service if:
You are currently insufficiently active for good health* 
You are NOT wanting sport-specific training (e.g. training for a fun-run or triathlon)
You do NOT want a rehabilitation program for a specific condition or injury (e.g. chronic low back pain, ACL tear, Type 2 Diabetes, Stroke). 
*Australian Guidelines recommend that, for good health, people should  complete 30 minutes of moderate-intensity activity at least 5 times per week AND you do muscle strengthening activities at least 2 days per week.
What does the service include?
The below features are all included in the package for Semester 2, 2019.
All clients will receive:
2 * Fitness Assessments (Initial and Final)
8 * Personal Training Sessions (more than 25 times to choose from, from early morning to late evening)
In addition, clients will be encouraged to supplement their PT session with our complimentary group training sessions, offered for 8wks during the program. These sessions are a combination of Boot Camp and Gym Circuit classes and will be suitable for those who enjoy the group training environment and/or would like to attend additional supervised sessions. Educationally they provide our students with an important opportunity to work with groups. They are run by different students each time, but will give fantastic variety of exercise, great support with other trainees of the program and help build on your fitness each week.
Where is it done?
The sessions are conducted in our spacious, fully equipped teaching gym in HMNS (Building #26, St Lucia Campus). Your PT sessions will never be with more than 4 other clients, guaranteeing privacy, personal attention and no line-up for equipment.
When does it run?
Start: Week starting July 29th 2019
Finish: Week ending October 14th 2019 (so you will be heading into summer in good shape!)
Week 1: Initial Assessment Session
Weeks 2 - 9: Personal Training Sessions (1 week off due to Mid Semester Break). Group training sessions also run for these weeks
Week 10: Final Assessment Session
What does it cost?
Usually this service is $240. However, we have an extra-big class this semester and so to help us recruit sufficient clients, we have permission to offer the program for the highly attractive, all-inclusive price of ONLY $100!
Session Times
Personal Training sessions:
We have 5-6 sessions EVERY WEEK DAY (more than 25 session altogether). Sign up for one of the following six session times – 5:30 – 6:30am, 6:30 - 7:30am, 7:30 - 8:30am, 4:30 – 5:30pm 5:30 - 6:30pm and 6:30 - 7:30pm. These times are offered on all weekdays, except for 5.30 – 6.30am on Monday and Friday.
* Please note some timeslots may be removed/added depending on student enrolment numbers.
In addition to your PT sessions there will be 6 group training sessions run every week:
6:30 - 7:30am on Tue, Wed & Thu mornings;
6 - 7pm on Tue, Wed & Thu evenings.
Come to as many as you would like!
Program Features
Comprehensive pre and post-training fitness testing of key markers of health (aerobic fitness, body composition, flexibility and strength), as well as a full written report explaining your results.
Eight weeks of one-on-one personal training sessions in the newly renovated HMNS personal training facility, located in the School of HMNS (building #26)
An integrated home/community program, which will help you build the skills and confidence to continue your progress outside of sessions and at the conclusion of this service.
Education on exercise, health and physical activity giving you the tools to empower yourself on your own personal health journey.
Excellent Value!! - A comparable 10 week program would cost approximately $680 to $900 in commercial gyms.
How do I register?
ITS SIMPLE! Just follow this 3 step process:
Step 1: Register your interest by clicking on the "Register Here" button and completing the survey.
Step 2: Your registration will be screened to assess eligibility.
Step 3: Eligible clients will be notified within a week of registration.
Please Note: Registering your interest does not guarantee you a place in the program. Registration will be assessed in the order of which they are received (ie. first in first served). There are limited places so please register early to avoid disappointment. 
Applications close 19th July 2019
You will be advised of the outcome of your application via email by no later than 22ndof July 2019. Session times and payment will be arranged at that time.
On Behalf of the HMNS Personal Training Service Team 2019.